i know this post is going to make some of you *very* happy....especially my inlaws ;)
my house is still in a state of complete disarray and i don't wanna post pictures of a mess. so this post is going to be devoted to the two rooms that are the most complete.....the KIDS ROOMS!!!
i am so thrilled with their rooms, i'm a lil jealous. each room i think represent each child and they enjoy hanging out in there. they hardly have any toys in there aside from books and we made the decision that in this house, they were not going to have tellies in their rooms. we have a play room that houses toys and a tellie so i wanted to make sure their rooms were theirs. a place they could go to read or just be by themselves. b/c i can certainly understand just wanting to be alone. i've always been like that and i think it is very important to have your own space. i guess that comes from having two little pesky brothers and wanting my own space.
i swore i wasn't going to do themes in the kiddos' rooms b/c they outgrow them so much but when we were at rooms to go and saw the pirate furniture i knew i had to get i for mikey. when he grows outta the phase, then he can have a nautical room.
beware of the horrible pictures...we have *amazing* sunlight that comes thru the windows that makes for horrible shots :)
oh and their rooms aren't 100% complete, bella needs a bookshelf, mikey needs a fab/old table and a lil chair for his reading nook!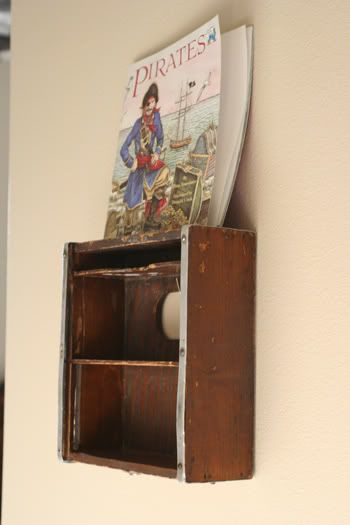 the entry wall to mikey's room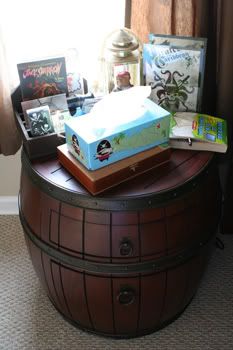 his end table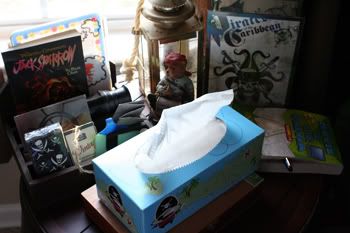 end table goodies. thrills me to no end that he has a word search book on his nightstand :) box holding goodies i got thrifting and the lantern at a garage sale. wooden cigar box is currently holding mikey's new rock collection.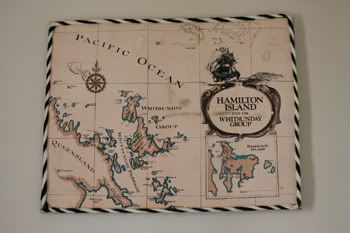 this fabulous piece MICHAEL spotted while we were thrifting a couple of weeks ago. yes, i have the most *amazing* hubby who lets me drag him into thrift stores, antique shops, and garage sales. he acts like he doesn't like it, but i think he secretly does. damn i love that man.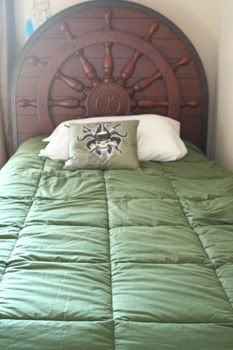 mikey's bed which is simply the best and this pic is complete shit and doesn't do it justice.
the footer of his bed. when he grows up, we can switch the map part around for a solid wood piece.
closet doors. do you see that skull up there. an amazing (yet slightly expensive) find at an antique store believe it or not. on his closet door hangs the lil saint medallion my grandparents sent him when he was born.
mikey loves this piece and it couldn't be more perfect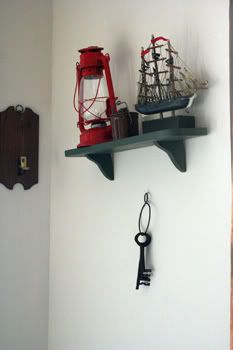 shelf i thieved from mom's garage (well i didn't steal it, me and her thought it was perfect so she said i could have it). pirate ship is a bank mom got for him on one of our most hilarious garage sale-in' trips and lantern is from thrift store. sconces outside of closet doors also got thrifting and plan on burning some candles and sticking them in there for an old pirate ship effect.
mikey's favorite piece, the lockers. now i got these at an antique store before i bought the pirate stuff. so when i saw the pirate stuff these def. popped in my mind b/c i thought they wouldn't match. well when me and michael find a minute, we are going to spray paint them a darker brown and sand em a lil to give them a worn look. mikey said that davy jones (on pirates of the carribean) had lockers or something, so i guess it will match....lol. i also am going to make old looking labels or numbers to put on the lockers. these lockers serve as his dresser and a place to put all his treasures.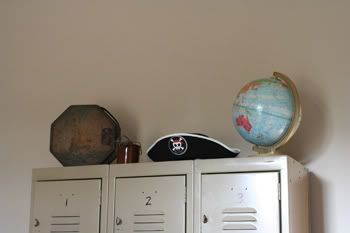 goodies on the top of his lockers. pirate ship tin came from a garage sale, pirate hat we got him at disney two summers ago, globe was given to mom who gave it to him, and lil jar i scooped up thrifting.
for those that remember, mikey's room originally had a plane light in it. this was pre pirate stuff. so michael took that light down and i found this perfect ceiling fan at lowe's. when you turn the light out, it puts this amazing wavy image on the walls that look like water.
well that was mikey's room....on to miss bella boo.
when i had bella, her nursery was very shabby chic. i loved the look. didn't want something too fancy, but def. wanted it girly and it def. had to have vintage pieces in it.
so i knew that i wanted her room at this house to be the same.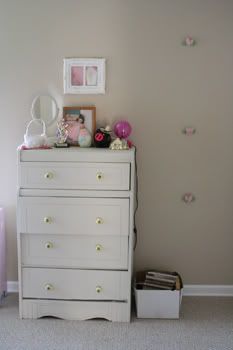 oh bella boo's dresser. i spotted this beauty in a booth at an antique store the day i bought her bed. i was kinda talked outta it b/c the condition of it wasn't great. the drawers need something in them to make them move just a lil smoother. it was on sale though from $145 to $95. well, i'll keep looking i thought. well i kept looking and didn't find anything. when i went to go back and get it wasn't in that booth anymore. upon walking around some more, i noticed it in another booth. repainted and these drawer pulls on it and of course more expensive....$125. i was crushed. first it was more moola and it was repainted. the first time i saw it it was still white, but shabby. so after looking a few more weeks, i thought fark it, i'm getting it. so we all stopped in the antique store and there it was. ON SALE FOR $75. SOLD!!!!!! i guess it pays to wait. i don't know if i am going to replace the drawer pulls or not. they are start to warm me over.
the windows (bad picture) with the carasol (sp?) horse my mom made for bella.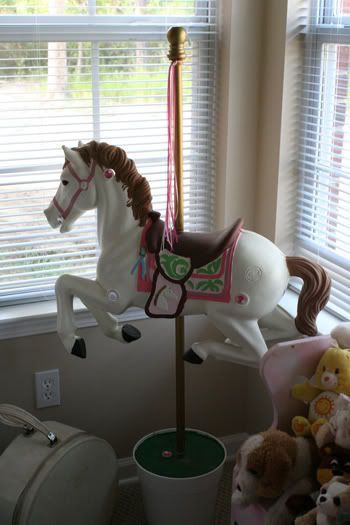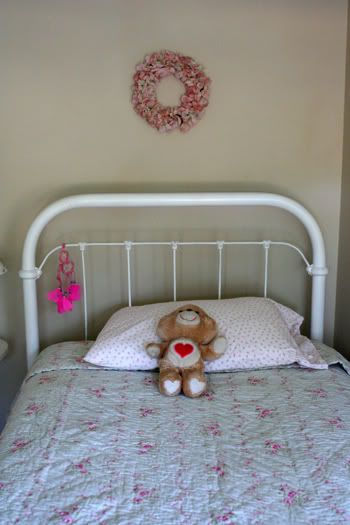 bella's fab bed!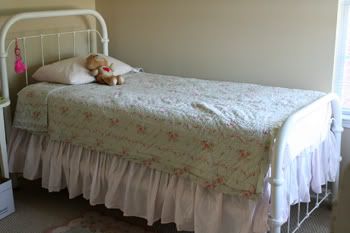 bedding came from target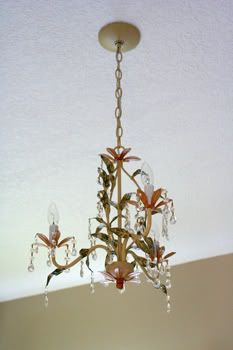 her light which i absolutely love and got from lowes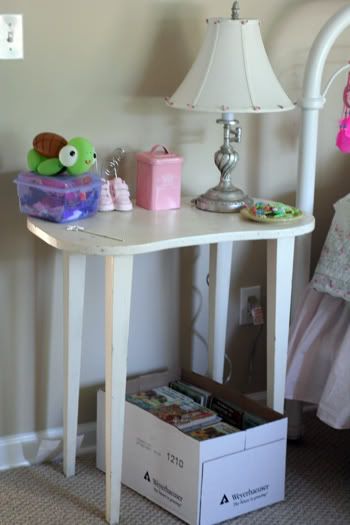 her end table which i got at the same antique store that i keep mentioning. i love that place. when me and michael bought that table and brought it to the front, he kept looking at it. ya see, there is a country blue paint that is barely peeking thru at some points that the paint is chipped. i knew what he was thinking. he wanted to repaint it. i told him hell no. the gals that worked there were on my side of course ;) oh and the box underneath houses her bobbsey twins books which i cannot wait to get on a shelf.
so that's it my dears. the first two rooms that are almost complete. they both need a few more pieces and then they will be done. i'm proud of the kids for keeping their rooms very clean.
hopefully i'll have more to share soon. i'm hoping to go garage sale-in' this weekend to pick up some pieces that i need. aimee if you're reading and ya wanna go, gimme a call :)