{deep sigh}
i had quite the relaxing weekend of doing nothing.
absolutely nothing and it was nice.
i did get up early and do my grocery shopping on saturday morning (love to grocery shop) and did some cooking but other than that, it was perfect.
yesterday mom came bearing donuts, a vcr, and some lifetime movies on tape and we vegged out on the couch watching that.
michael and i caught up on the second season of
weeds
and i absolutely cannot wait until the 3rd season is released.
the cooking i did was absolutely delish.
saturday night i made easy cordon bleu with baked potatoes and broccoli and then banana cream pie for dessert. i got the recipe for the chicken from
the kraft food and family magazine
they send ya.
here's the recipe:
2 cups STOVE TOP Stuffing Mix for Chicken in the Canister
4 small boneless skinless chicken breast halves (1 lb.)
4 slices OSCAR MAYER Thin Sliced Smoked Ham
1 can (10-3/4 oz.) condensed cream of chicken soup
1 Tbsp. GREY POUPON Dijon Mustard
1 cup KRAFT Shredded Swiss Cheese
PREHEAT oven to 400°F. Prepare stuffing mix as directed on package; set aside.
PLACE chicken in 13x9-inch baking dish; cover with ham. Mix soup and mustard; spoon over chicken. Top with prepared stuffing.
BAKE 25 min. or until chicken is cooked through (170°F). Sprinkle with cheese. Bake an additional 5 min. or until cheese is melted.
super easy.
super delish!
then yesterday i cooked a pot of sauce all day so we could have manicotti with french bread. again, got the recipe from kraft and it was very, very, very good. but i have to say that my sauce made it the best ;)
baked manicotti
2 cups spaghetti sauce, divided
1 egg, lightly beaten
1-3/4 cups POLLY-O Original Ricotta Cheese
1-1/2 cups KRAFT Shredded Mozzarella Cheese
1/2 cup KRAFT 100% Grated Parmesan Cheese
1/4 cup pesto
12 manicotti shells, cooked, rinsed in cold water
PREHEAT oven to 350°F. Spread 3/4 cup of the spaghetti sauce on bottom of 13x9-inch baking dish. Mix egg, cheeses and pesto until well blended. Spoon cheese mixture into large resealable plastic bag. Using scissors, cut off small hole from one of the bottom corners of bag.
FILL manicotti shells, one at a time, squeezing cheese mixture into both sides of each shell. Place manicotti over sauce in baking dish; pour remaining 1-1/4 cups spaghetti sauce over manicotti. Cover with foil.
BAKE 40 min. or until heated through.
and there's the recipe for that!
then this a.m. i followed tradition and after i dropped the kids off at school i came home really quick and sat outside with a cuppa coffee and noticed what i thought was a wood pecker. it was high up in a tree and couldn't really tell. i was going to get my camera and thought that the bird would be gone by the time that i got it. after it stayed there for awhile i ran inside to get it.
i don't know what the hell kinda birds they were but they were gorgeous.
and i have to give myself a big ol pat on the back b/c i used manual and i usually steer clear from manual b/c i feel like i don't have time to capture the shot by the time i fool around with it.
but these pics came out fabulous (imo ;)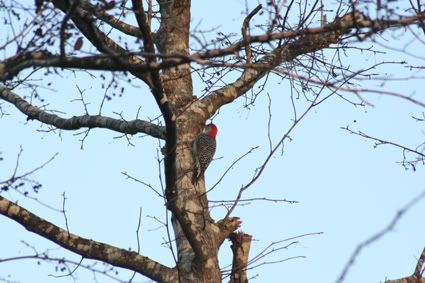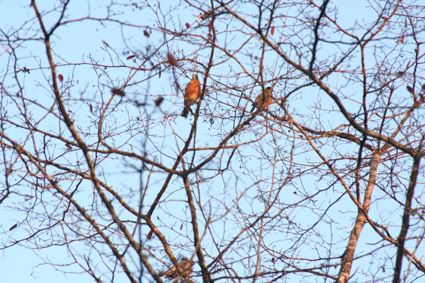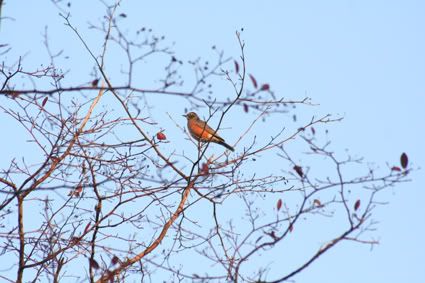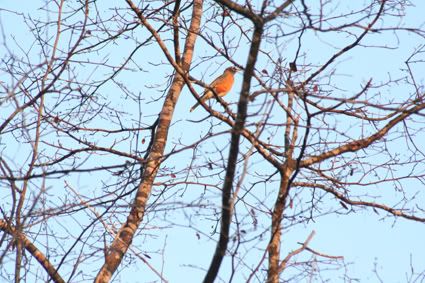 i'm thinking in the near future that these pictures are going to become a craft project so be on the look out for that.
and it always cracks me up about how interested in am in taking shots of birds b/c anyone who knows me knows that i am terrified of birds. i'm afraid they are going to get me like tippie ;)
well i guess that's it.
hope ya'll had a fab*boo weekend and be on the lookout tomorrow for a post devoted to all the lovelies i have received lately.