one of my favorite bloggin' buddies in the whole wide world is
mary ann
. anyone that knows her knows that she is the most generous and loving gal.
ever!
i only wish that we lived closer so we could thrift and craft together.
damn i love this girl.
well she musta sensed that i was going to have a really shitty day today b/c when i got home, i came home to this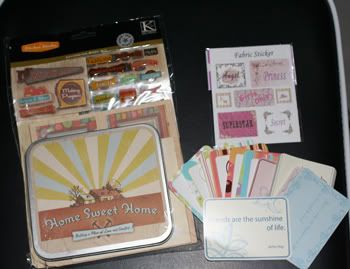 the perfect lil pkg. to brighten up a girl's day.
love ya girlie girl!
TONS!!!!
you have no idea what this did for my day. seriously! i needed the love.
oh and on a side note, look at what i found in a bag of frozen ore ida waffle fries.
you see that?
that lil ball there?
its a friggin' potato!
a whole potato!
its about the size of a red potato.
i couldn't believe it. so needless to say, i'll be contacting them and letting them know my find. could get a free coupon for it. and before you start laughing your ass outta your chair greta, you'll be laughing when i'm eating something aside for ramen noodles for one night...bwahahahahahaa! maybe if you're lucky, i'll invite you over that night ;)