(note: i'm pissed....explorer locked up on me and ate the original post so lemme see if i can remember what i was saying...here goes nothing..grr!)
for those of you that didn't know it, today is/was mardi gras. this means that all schools are closed (actually closed this mon-wed which is ridiculous) and the city is closed (aside from the hunky men in blue) for the biloxi parade.
so this means while michael was at work, the kiddos and i were at home.
i got up a lil late this morning (730 is pretty late for sleeping in....for me anyway), grabbed a cuppa coffee and hit bloglines. i wasn't really in a scrappy mood today and i could tell when i was checking more of the crafty blogs today!
so a crafty day it was going to be.
the first project i did was one i spotted on one of my most favorite crafy blogs
hello my name is heather
. not only is she a fabric designer but her photos are
*amazing*
and she does the best projects. so when i spotted
this project
i knew i had to try it.
so whatchya think?
isn't it just the cutest???
she has the instructions listed in a pdf file on her sidebar if you're interested in making one yourself :)
now a piece of advice....if it is really humid outside and you have the windows open like i did, don't use a glue stick. its just now going to work. hell i don't even know if its dry yet and i did this project this a.m. also i used my giga scalloped punch since it was the same size as the circles and didn't wanna cut the circles out. oh and i didn't have a dow rod so i just covered a pencil in scrappy paper and as you can see used a cardboard "bag" that i got in a pack of 20 from the dollar tree.
i'm really lovin' how this turned out and think that one for every holiday is a must!!
if you make one shoot me a comment and lmk. i'd love to see it.
so after this project was finished, i had the bug.
now in an effort to be more organized for oh*eight, i decided that i needed a bloggin' buddies address book. a place for all my favorite people's addresses and birthdays.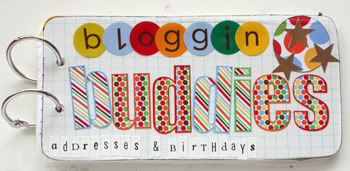 inside this beauty there is a colored index card for some of you that has your address, blog address, phone number (if i have it), and your email addy. on the back of the card is your bday. i feel so organized and on top of the game its disgusting.
its hard to tell but there is a plastic cover on it and i cut it from the scenic route chipboard circles packaging. i'm hoping that it helps protect it just a lil. oh and the back and front cover are cut from a 12x12 piece of cardboard that comes with scrapbooking paper.
it def. pays to be a hoarder :)
once this was done, i knew that there were some cards that i wanted to make that i saw earlier this week.
another one of my favorite bloggers is jessica from
how about orange
. she is a graphic designer who is very generious with her designs and well just about the most clever person on the planet. when i saw her post for
these cards
i knew i'd be making them.
these are the ones that belted out today.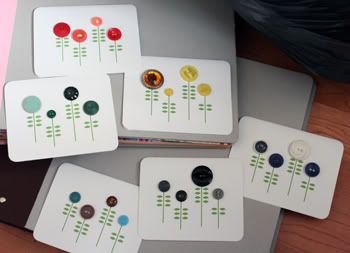 close up
what a great way to use up all those buttons you have laying around!!! mine are all vintage buttons and they are ready to be stuffed in envies to go out in the mail already :)
while i was working on one of my projects, bella was sitting in the craft room with me when she spotted a bag of buttons that i had sitting on one of my shelves. i received this beautiful bounty of buttons from
michelle
when we did a swap that me and her never thought would take place. and if you can believe it, i actually never really went thru them (i know, shame the hell on me).
so bella wanted to go thru them. okay, i don't mind. she also wanted to have some. okay now i mind a lil. but as she was going thru them, she showed them to me and asked me which ones she could have (actually she really told me which ones she wanted...lol). there was such an awesome bounty of buttons in that bag that it kinda broke my heart to let her have some. but i overcame that and some she got to keep and now bella has her own lil plastic box (which i put her name on with stickers) of buttons that she has been playing with all evening.
but the point is, there was one button in there that took my breath away. the instant i saw it, i knew it had to become a ring. so a ring it became.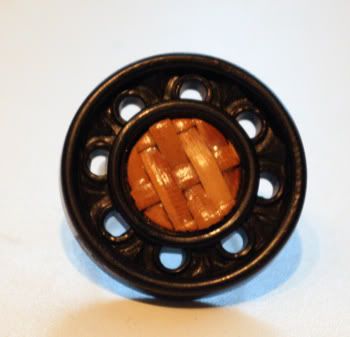 this isn't a really good picture, but the button is black with a weaved wicker in the middle. ummm...is that not amazing???? i'm afraid its going to be my new fave. i'm a sucker for turning big huge ass vintage buttons in to rings. i'll have to post the ones i got in a later post.
so that's it for my crafiness today. quite frankly i can't believe its already after 7. where did the day okay.
but before i leave, i need to give a big ol thank you and hugs to my deal love
maryann
for the wonderful goodies that she sent me the other day in the mail.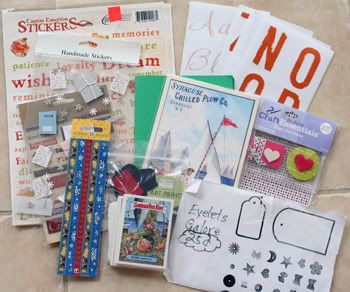 and i also need to give a big ol thank you to one of my oldest bloggin' buddies
jennifer
for the goodies that she sent me as well. unfortunately i don't have a pic b/c the box is still at work ;)
aren't bloggin' buddies the best?
that's why i needed to make a book strictly devoted to them.
oh speaking of books....'member on the last post how i mentioned that i spent the weekend cleaning the kiddos' rooms and closets? well aside from keeping all the change that i found from cleaning their rooms, i also found me some scrappy products.
all you scrappers out there know that chipboard mini albums are simply the must have product for altering into scrapbooks rights?
well i'm going to alter these....
lil chipboard books that the kiddos don't read anymore.
in the future they will be mini scrapbooks.
so i thought i would pass the idea on to ya'll. start searching your kids' rooms, the thrift stores or garage sales for these lil books. betcha you'll get em a helluva lot cheaper then buying the ones specifically for scrappin'.
hope ya'll had a happy mardi gras :)