OHIO!!!
i have a love for all things state related. don't know where it came from. think it started when i learned the state capitols and pride myself on knowing most them still (however, i'm becoming a lil rusty so i think a study session is in order. you think i'm kidding. i'm not :)
anyway, so when i saw that there was a state atc swap going on over at
sis
i had to jump on the bandwagon. i chose the state ohio since i was born there and mississippi was already taken (thank goodness i did, i would have never got mississippi stamped on these cards :) now being the procrastinator that i am, i signed up for this swap in december. they are due march first. i didn't start them till this past tuesday. so i'm quite proud of myself (pat on the back) for getting 50 of these bad boys done.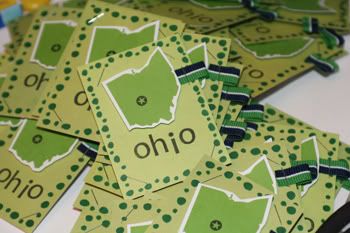 oh i love em!
i actually need to do four more of four other states that didn't get picked and actually they will be about the same way exact the shape of the state will be different.
i think that i am going to do one like this for every stand and frame em in one of those big poster frames and hang it up on the wall.
i'm telling ya i dig things "state"y.
just so ya know, i've spent the past 15 minutes or so trying to scroll thru my archives to find the pillows that i found on the web that i desperately wanted, but to no avail can i find it.
but
here's a link
to show you what i'm drooling over. i wanted to get a pillow for every state i've lived in (5) and for every state that michael has lived in (2)...well if you hit the link, you do the math! i think not.
but i did find
this nifty lil place
that sells state map cross stitch patterns. thought about going that route.
and then i told michael that i wanted
this lil number
for my bday.
see, i love the states!
does anyone have any good state ideas or websites? seriously, i'd love to be able to incorporate this crazy*state*love i have more in my house. especially since i think i've passed it on to mikey.
but there ain't nothing wrong with that right?