what a busy past two weeks!
whew!!!
i haven't even had a chance to let you know that we finally sold the house!!!!!
whoooo-haaaa!
i can't believe it. that monkey is off my back. i still feel as if it is there, but i know that its not. you guys can't imagine what kind of stress that was causing me, but now its all gone.
we should sign on the new house in about two weeks (fingers crossed). so i've been busy buying furniture, trying to pick out a fridge and a washer/dryer, worrying about moola, and just plain ol excited about being in my own house. i'm still trying to figure out what kind curtains i'm going to hang, what pictures i'm going to hang on the wall, etc. but i figure those details can be worked out later...lol.
last tuesday was also the last day of school. that's right
my bug is going to be a second grader. my lord how the time flies.

shoot!

i forgot to mention that last weekend, we got to me the ever fabulous nancy. she's only a hop, skip, and a jump away, so me and greta hopped on over there. well while me and greta were droolin' over her fabulous scrappy space, she showed us an altered clipboard that she made. so i knew that i was stealing this idea to make for mikey's teachers. so this is what i came up with. they were quite the hit!



my bug had four, that's right, four ball games last week and i'm happy to report that on tuesday, he got game ball for the great hits he made (even if he did get out running to the bases). i CANNOT believe how much he has improved since the beginning of the season. hell, i can't believe that the season is over this coming up thursday.




whew!!

friday i decided to post on free cycle after joining my local free cycle group. i posted that i was looking for vintage buttons, fabric, clothing, and children's books. well, while on the computer saturday evening, an older woman im'ed me asking me if i was interested in the books that her friend was giving away. sure i'll take em off your hands! so sunday morning, with a lil bit of hesitation since i have never done anything like this before, i drove to ocean springs and picked up the books. i had bug with me, so i felt safe (like a 7 yo was going to keep my from harm's way if this ended up being a bad deal).

but it wasn't. i was greeted by a woman pushing 70, puffin' on a smoke, and trying to keep her lil pooch from escaping. she gave me the books and told me that if she found some more, she would give me a call!

score!!!

after we left there, me and mikey headed to the movie theater. me and my bug were going to see pirates of the carribean 3. mikey had been excited about it since we saw previews for it and quite frankly i was excited about it too! michael took mikey to see the first one and last summer, i took mikey to see the second one.

so after shellin' out a day's pay for two tickets and ONE medium drink and ONE medium popcorn, we sat down to spend the next THREE hours with jack and elizabeth (which is prolly why i like the movie....a beautiful, strong character has the same name as me ;)

here are a few more things i accomplished this lovely three day weekend:

*did about 10 loads of laundry. no i haven't put em away, but they're washed and folded.

*found some freebies and coupons online. gotta start stickin' to a budget and quit throwing our money away so foolishly.

*

QUIT SMOKING!!!

i'm reaching the 24 hour mark and so far so good. the great thing about me (okay, one of the great things...lol) is i can put em down as easily as i can pick em up. i know this doesn't make it okay and it is a disgusting habit, but i had picked them up again a few days before katrina hit and i feel like i have been stressed out ever since. i know that is an excuse and its a famous excuse for smoking, but it was also one of the things that me and greta did together. so now i'll just sit there and watch. i hate how i was so sneaky with the kids about it ('cept i think mikey knows. he never said anything and thank god he didn't b/c it would have broke my heart. i didn't want the kids to ever see me smoke). it took me away from the kids so much b/c i used it as an excuse to get away. i'd go outside, sit on the phone with g or drag my mom out onto the porch and just get away from the screaming kids or whatever i was stressing about at the time. so i'm hoping that i stay strong and that this time i quit for good!!!

*i finally got all the circle journals in the house done. i got the two done for andrea's circle and two that i have been holding on to forever (and i do mean forever) for veronica and laura's circle journals. i feel so bad that i have been holding on to these. but finally, they are all done and will be in the mail tomorrow!!!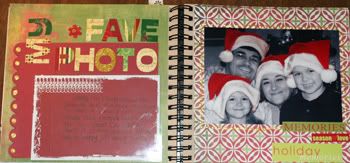 for the favorite photo cj



5 senses journal

veronica's journal: zodiac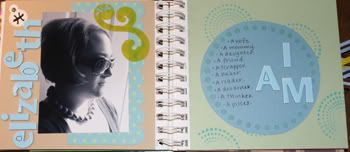 and laura's journal: 5 things about me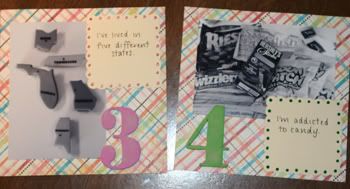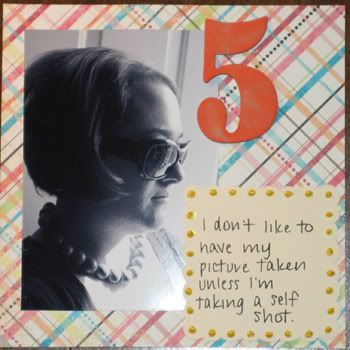 *i also spent the weekend cleaning and organizing all my scrappy stuff! i've been collecting jars like a made woman and decided this long weekend was the time to fill em. as much as it was soooo overwhelming at first, i'm so glad that i did this. i got rid of sooo much packaging and now everything is nice and neat in jars and lil boxes.

*i joined a website called grocery game to help me find all the deals that are out there at my local grocery store. this will save me time when it comes to clipping coupons and looking thru the ads (which i love by the way. and i looooove to grocery shop). so even though i like doing it, i need time right now, so this going to help.

also, i've been meaning to post, if anyone gets the sunday paper and you just throw your coupons in the garbage i'd love to take em off your hands. just send me an email and i will give you my addy and for every envelope of coupons you send me, i'll send you a goodie of some sort in the mail.

lets see....what else?

while at the dollar tree yesterday i picked up a standard size composition book. i plan on taking ideas out of mags, websites, etc. and stickin' in there so i have my own lil inspiration book. i've been thinking about doing this for some time but then me and greta were talking about it over lunch and i decided that i really need to do it. then when i have the crafty/scrappy lo-jo i can just thumb threw this book and hopefully be inspired.

well i guess that was my weekend.

what about you?